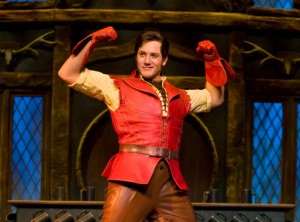 This magical and spectacular production, which is one of the most acclaimed musical shows internationally, will hold its first national tour visiting a total of seventeen Spanish cities during the 2012-2013 season starting on September 1 at the Calderón Theatre in Valladolid.
Daniel Diges, who represented Spain at the 2010 Eurovision Song Contest, is not a newcomer to the musical theatre. He has starred in musicals such as ¡Hoy No Me Puedo Levantar!, En Tu Fiesta Me Colé, We Will Rock You, High School Musical, Mamma Mia or Les Miserables. Now he is back to perform in a musical show combining his acting career with music.
Beauty and the Beast is based on one of the most successful and award-winning Disney movies of all time. It tells the story of a young woman in a provincial French town, Belle, and the Beast, who is a young prince transformed as punishment for his insensitivity. Daniel will play the role of the obnoxiously narcissistic Gaston who is a simple townsman who wants to marry Belle. He is handsome and muscular but he has no moral or emotions.
With a stunning scenery and costumes the show is full of imagination, fantasy and emotion. It features songs from the 1991 movie by Alan Menken (winner of two Oscars for best song and best original score) and Howard Ashman with additional lyrics translated into Spanish. The main characters are played by Ignasi Vidal (Beast) and Talía del Val (Belle) who both of them also shared the stage with Daniel in Les Miserables.
The Disney musical will begin its tour on September 1 in the Calderón Theatre in Valladolid and it will be the starting point for an ambitious tour that will bring the magic of this show to seventeen Spanish cities.
Below you can see all the tour dates:
From Sep 01 to Sep 23: Valladolid – Calderón Theatre
From Sep 28 to Oct 07: Santander – Festival Palace
From Oct 26 to Nov 04: Murcia – Víctor Villegas Hall
From Nov 09 to Nov 18: Córdoba – Grand Theatre
From Nov 23 to Dec 02: Seville – Fibes Hall
From Dec 07 to Dec 19: Bilbao – Arriaga Theatre
From Dec 28 to Jan 06: Tenerife – Adán Martín Hall
From Jan 01 to Jan 27: Las Palmas – Pérez Galdós Theatre
From Feb 08 to Mar 24: Valencia – Principal Theatre
From Apr 05 to Apr 14: Zaragoza – Congress Hall
From Apr 19 to Apr 28: Gijón – Laboral Theatre
From May 17 to Jun 09: Alicante – Principal Theatre
From Jun 21 to Jun 30: Pamplona – Baluarte Theatre
From Jul 05 to Jul 14: San Sebastián – Kursaal
From Jul 19 to Aug 04: Málaga – Cervantes Theatre