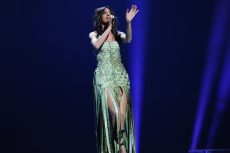 After a first rehearsal plagued by technical problems, Dana International took to the stage today to show us what to expect in her semi-final on Thursday.  Unfortunatelty, it still failed to convince.
Dana is our only previous winner in this year's Eurovision.  It's always a high risk strategy, because if you don't win a second time, people will forget your first victory.
Dana did have an improved performance today.  She appeared in costume, which is a floor-length shiny pale green dress, split from above the knee.  Her five female backing singers are dressed in short white dresses, and move around as they did in the Israeli national final.  Dana sashays on to the stage to deliver the song, moves around throughout, and finishes at the end of the catwalk.
The backdrop is pink and blue lights.  These flicker, rise and fall during the song.  They are very effective.
She did still appear to be straining her voice a little.  She may be saving herself for next week.  The uncomplicated choreography does, however, work and it may well save the song.
In my view
Dana is in a very tough semi-final, and is followed by a run of very strong songs.  In that respect, I personally don't think Israel will qualify.

The opinion expressed in "In my view" are those of the author and are not necessarily the one of EuroVisionary.com.