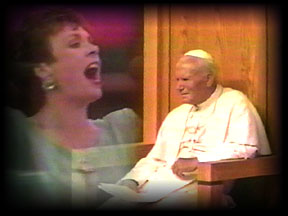 Dana, who gave Ireland its first victory, out of 7 so far, in the Eurovision Song Contest, will be performing for Pope Benedict XVI at a press-Mass concert in New York later this month. In 1993 she performed for the previous Pope.
Dana is a living example that a Eurovision Song Contest victory can lead to All kinds of everything. After winning the Contest in 1970 she has had a career both in the United States and in Ireland, has been a member of the European Parliament from 1999 to 2004 and will now be performing at the Yankee Stadium in New York for Pope Benedict and 60,000 people representing 195 dioceses in America. In 1993 she sang We are one body at the World Youth Day '93 in Denver. Among the audience at that time was the previous Pope, John Paul II.
Dana has never been afraid to express strong opinions whether it is about abortion or Dustin the Turkey. She was a judge at the 2008 Irish final and afterwards she complained in public about the winning song asking Ireland to withdraw from the Contest rather than having Dustin the Turkey to represent the country that has won the Eurovision Song Contest a total of seven times so far.