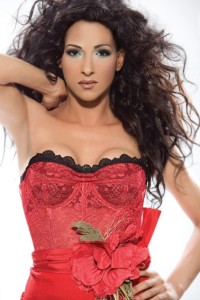 After several years of selecting the Israeli representative internally, the Israeli national final KDAM is finally back. Tonight it was held in Rishon Le'Zion. The combination of professional jury (40%), fan jury (12%) and public vote (48%) decided to send Dana International to Düsseldorf singing Ding Dong.
The show kicked off on 20:30 CET and was opened by a vocal group singing a medley consisting of several Eurovision hits. Afterwards tonight's hosts Aki Yavni and Shiri Maimon entered the stage to perform the dance song Halayla Ho Shirim. Shiri Maimon represented Israel with her song Hasheket shenish'ar in 2005 and finished 4th, which was the best Israeli result in the last decade. Tonight 10 songs competed for the honour to represent their country in Düsseldorf.
The songs:
Song 1 Adi Cohen – Al Haavah
A very nice ballad which builds up with the first chorus. Adi has a clear voice which suits very well to the song. She wears an elegant bright white dress which remains a bit of a wedding dress because of the long trail. From the second verse the song is sung in English. Adi is accompanied by two female and one male backing vocalist. A great opener!
Song 2 KNOB – Ohev Et Ze (I'm loving it)
This is the opposite to song number one: A very catchy uptempo and dance song. The singers and dancers are dressed in 80s style. The female part starts the song in English, singing quite well while the male part does not hit all the notes during the first verse which he sings in Hebrew. The chorus is very catchy repeating I'm loving it several times. KNOB receive a huge applause by the audience.
Song 3 Chen Ahroni – Or
The beginning of the song has celtic sounds. This could also be an Irish entry. The folk sound is repeated several times during the song. After the first part the song turns into a very catchy uptempo entry. Chen performs it very well and he seems to have a lot of fun on stage. He is accompanied by three dancers and two male backing singers. The choreography of the male dancers reminds a bit of Alexander Rybak's choreography in Moscow. Or is partly sung in English.
Song 4 Idit Halevi – It's my time

It's my time is another bilingual entry. It starts
slowly in unplugged style and it builds to a midtempo pop song. Idit looks a bit like Evridiki did in Helsinki. She wears a grey dress and has three backing singers with her on stage. Again warm applause for this entry, although after Chen Ahroni's performance this entry appears a bit boring.
Song 5 Hatikva 6 – Hakol Sababa

Finally a reggae song with some jazz influence from Israel! The song is again sung in Hebrew and English. Hatikva 6 consist of six members – one lead singer and five backing musicians. In some parts Hakol Sababa is more screamed than sung. So far this seems to be the weakest candidate for Düsseldorf.
Song 6 Nikki Goldstein – Amri Eitach

Amri Eitach is a classy ballad which begins slowly in English. It builds up with the chorus sung in Hebrew and later again in English. The style remains a bit of former powerful Israeli ballads such as Amen. Nikki has two female backing vocalists and three drummers on stage. His vocal performance is excellent.
Song 7 Sivan Bahnem – Kach Oti
What a surprise, song 7 is again bilingual! The song is a very modern midtempo pop song with some R'n'B elements. Sivan has a very powerful voice and is accompanied by a female and a male backing singer.
Song 8 Michael & Shimrit Greilsammer – Tu Du du
This entry has an oriental beginning and turns into a midtempo pop song. Michael plays the violin and starts singing in French. Shimrit enters the stage singing in Hebrew. The chorus is catchy and consits only of the lyrics Tu du du repeated several times. While Shimrit who is dressed in red gives a good vocal performance, Michael has problems to hit the right notes so the chorus sounds in some parts slightly out of tune. The song finishes with Michael kissing Shimrit.
Song 9 Dana International – Ding Dong

Finally we see the big favourite. We remember Dana winning with Diva in Birmingham in 1998. Ding Dong starts as a ballad, but turns with the first chorus into an uptempo dance song. Dana wears an elegant white long dress and is backed by five female backings who wear different coloured long dresses. Overall the tune of the chorus sounds a bit trashy.
Song 10 Carmel Ekman – El Gagoai

The last song of tonight is finally completely sung in Hebrew. It is an uptempo pop song with some country and folk elements which remind a bit of Irish music. The song is very catchy. Carmel plays the violin and is accompanied by other musicians playing the violin, the guitar and the contrabass. A very good performance at the end.
The show:
After a short commercial break and a reprise of all ten entries the interval act starts. It is a humoristic group who dance and perform to former Eurovision entries. Finally the Israeli singer Pnina Rosenblum enters the stage singing the song Tamid Isha. 
The results:
Dana International won the jury vote and came second in the televoting. This meant she received enough votes to represent Israel in Düsseldorf. The televoting was won by Idit Halevi who finished second overall.
Israel was directly chosen to perform in the second semifinal on May 12th due to their independence day on May 10th. Dana will try to reach the final for the fourth time in a row. Last year Harel Skaat finished 14th singing the ballad Milim.