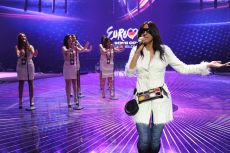 Previous winner Dana International graced the Düsseldorf Arena stage today, aiming to achieve a double victory.  Judging by this morning's performance, she has a lot of work to do.
Dana International always generates a lot of interest.  In that respect, she's good for giving the contest a high profile.  But with this profile comes a high expectation to do well.  The general vibe of the rehearsal was not very positive it has to be said.  Maybe Dana was holding back, or maybe because it's the first rehearsal.  But Israel has a lot of work to do to qualify for the final.
Dana has five female backing singers, all in short white dresses.  They appeared to be carrying Dana.  Dana herself was not in costume, but wore a white rain mac and large dark sunglasses.  Our backdrop was pink and blue flashing lights, which fitted in with the song.
Dana has a real danger of not qualifying, especially with what she has to compete with in this semi-final.  The songs after her are all very strong, so they really need to do some serious work.