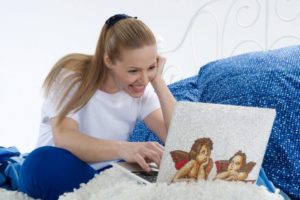 Valentina Monetta is looking for innovative, creative and personal interpretations of her Eurovision entry and all the fans can create their own music video of The Social Network Song. If you have an original idea you can win an exclusive trip to the famous Oktoberfest in Munich plus 1000€ in cash.
An online video competition has been launched in San Marino, through the broadcaster website for the best home video of The Social Network Song.
If you want to live some of the most unforgettable experiences at the biggest folk festival in the world you just have to create your own music video to this year's Sammarinese entry at the Eurovision Song Contest. Rules are simple:
You can choose any of the two versions of the song (Facebook Uh Oh Oh or The Social Network Song). Then, you can use any kind of recording device (phone, camera, webcam…) to film your version of the song. Another possibility would be to download from SMTV's website a special green-screen version of the official video and put yourself into it adding your own touch.
Once you have your video filmed you just have to upload it to YouTube tagging it with the keywords "Eurovision 2012 San Marino Social Network Music Video Contest".
Finally, you should fill out the Participant Registration Form on SMTV's website with your personal details and a link to your video on YouTube. From this moment your video will be part of Valentina Monetta's YouTube channel and will be played on a special the contest playlist.
The awards are as follow:
1st Winner: exclusive VIP trip to the world famous Oktoberfest 2012 in Munich, Germany (flights and hotel included) plus 1000€ in cash.
2nd Winner: 700€ in Cash
3rd Winner: 500€ in Cash
4th – 6th Winner: 200€ in Cash each
7th – 10th Winner: 100€ in Cash each
Also, the video which reaches the highest amount of views on YouTube during this period will win a special prize and the winner will visit the beautiful country of San Marino for a long weekend and will meet Valentina in an exclusive dinner with her.
The winner will be decided by an expert committee composed by
– Valentina Monetta (Singer of The Social Network Song)
– Ralph Siegel (Composer and producer of The Social Network Song)
– Timothy Touchton (Lyric writer of The Social Network Song)
– Jose Santana Rodriguez (Lyric writer of The Social Network Song)
– Carmen Lasorella (Director General SMTV San Marino)
– Alessandro Capicchioni (Head of Delegation SMTV San Marino)
The competition starts on Friday April 13th 0.00h CET and the deadline to send your video is May 14th at 23.59h CET.
Be creative!