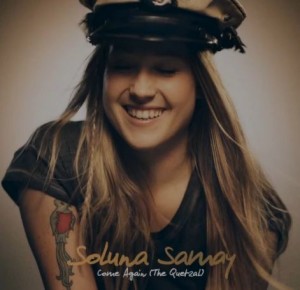 With her new single "Come Again (The Quetzal)", that is for sale today on iTunes, Danish Soluna Samay will try once again to become Europe's darling, something she didn't quite manage at the recently held Eurovision Song Contest. 
Soluna Samay proved that it takes more than a disspointing result at the Eurovision Song Contest when she recently recorded a cover version of Taylor Swift's Mean under the sub title Europe Should've Known Better offering a video showing all the countries that gave no points to her song. She is also working on her second album, which will include this new song.
The new single Come Again (The Quetzal) can be bought from today, Monday the 18th of June. The word Quetzal can be a reference to several things under that name, but most likely she is refering to the national bird and the name of the currency in Guatamala where she is born. 
Below you can see two videos: First a presentation video for the new single and after that our 3D recording from her participating entry Should've Known Better, which finished 23rd in the final. We recommend watching the video with a pair of suitable 3D glasses, but if you don't have that yet this feature can easily be turned off for watching in regular 2D.