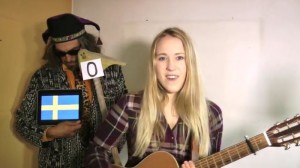 It takes more than a 23rd placement in the final of the Eurovision Song Contest to kick Soluna Samay out. In a new video she jokes about the many countries that didn't award her any points – and then she is back in the studio working on her second album.
The Danish broadcaster, DR, had high hopes for yet another top result at this year's Eurovision Song Contest, but after the country finished in top5 two years in a row it just wasn't meant to be a hattrick. Soluna Samay qualified to the final as 9th in the semi-final and finished 23rd in the final with the song Should've Known Better. After having had time to relaxe and land on her feets again she however proves that it isn't that easy to knock her out. 
In a new video – which is a cover of Taylor Swift's Mean – she is able to joke about the lack of points she got in the final. In the background of the video, just behind Soluna, her father is standing with a tablet that on auto run shows the flags of the countries from where Denmark got no points. Every time the flag changes her father makes a stick with 0 points appear and a hand pointing towards Soluna indicating that it was zero points for her.
Her father mainly stands still, but he do reacht to the zero points from neighbour country Sweden and a bit less, but still noticable Switzerland as Soluna Samay's mother is Swiss. Her father is German, but as Germany awarded her with 5 points there flag is not appearing. As the song ends the title Europe Should've Known Better appear followed by a smiley showing that this is not to be taken too serious.
Soluna Samay released her first album last year with the title Sing Our Loud. She is now back in the studio working on her second album, which naturally will include Should've Known Better. Stay tuned on EuroVisionary for more information about the release of this album.
Below you can watch first the video of Soluna Samay's Mean where Europe Should've Known Better and after that our 3D video of her performance at the 2012 Eurovision Song Contest. We recommend using your 3D glasses to enjoy this to its fullest, but if you want to this feature can easily be turned off in the player.