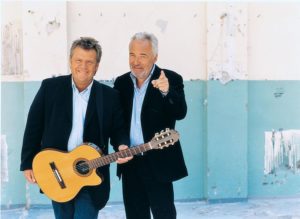 The cold professionel relationship between Danish broadcaster DR and previous Eurovision winner Olsen Brothers hasn't improved. In relation to BBC hosting the Eurovision Song Contest's Greatest Hits concert tomorrow evening, Jørgen Olsen is praising the British broadcaster, while DR once again are being attacked.
The conflict between Olsen Brothers and Danish broadcaster DR has been going on for a couple of years, but it was in relation to last year's Eurovision Song Contest hosted in the Danish capital Copenhagen, it really kicked off in the media.
Steen Wittrock, manager for the Olsen Brothers, who won the Eurovision Song Contest in 2000 with the song Fly On The Wings Of Love, told a few weeks before last year's contest, the story about how the brothers had been badly treated by the Danish broadcaster DR. It wasn't a pretty story that unfolded in the Danish media. It told how DR had asked the Olsen Brothers to keep their calender free for the Eurovision Song Contest weeks. Months went by and it wasn't until very late and several requests from the manager that DR finally admitted that the brothers weren't going to be a part of the show. Each of them instead receieved one ticket for the final show, which they felt the Danish broadcaster did as an humilation of them. Jørgen Olsen hinted that this might have been payback for him openly in the years before critisising DR for not allowing older artists any airplay or apperance on TV.
The cold relationship between Olsen Brothers and DR once again is filling the media. To Danish newspaper EkstraBladet, Jørgen Olsen said:
"BBC has been very eager to sign us. They are very happy about us. It is something completely different than the lousy treatment we got from DR. And I must say that BBC are top professionel compared to DR. They are innovative and incredible human. We are talking to them about our part of the show, and they come with some suggestions which really rules".
He continues making it clear that the old thing about DR now allowing older artists on TV or radio still applies in Denmark, but not in United Kingdom:
"What people want to hear are hits. They get that in the UK, but for some reason DR doesn't want to allow that to its viewers. Everything needs to be so young, its grotesque. DR is a state in the state, and unfortunately they won't learn as they have the attitude that no one can teach them anything".
You might also want to read: