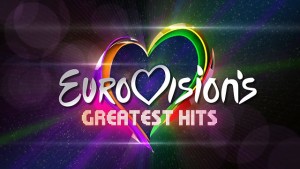 This year the Eurovision Song Contest can celebrate its 60th anniversary. This diamond jubilee will be made in form of a concert taking place in London this spring. It is not a live event, but will be broadcast in 21 countries over Easter and later. Tickets will be sold from this Friday.
It will be London's Eventim Apollo Hammersmith that will be used as venue for the special 60th anniversary concert of the Eurovision Song Contest, titled "Eurovision Song Contest's Greatest Hits". So far the following acts are known:
Conchita Wurst (Austria's 2014 winner), The Herreys (Sweden's 1984 winner), Natasja St-Pier (France 2001) and Brotherhood of Man (United Kingdom's 1976 winner). More will be revealed during this week.
EBU's Executive Supervisor of the Eurovision Song Contest, Jon Ola Sand says: "Over the last 60 years, the Eurovision Song Contest has become a true European institution that has led the way in TV entertainment. We are delighted that the BBC is launching our diamond jubilee celebrations with this special event and that TV viewers from across Europe and beyond will also get to enjoy it too."
The concert will take place on the 31st of March and will later be broadcast in the following countries: Australia, Austria, Belgium, Bulgaria, Denmark, Finland, France, Greece, Iceland, Israel, Ireland, Norway, Portugal, Romania, Russia, San Marino, Slovenia, Sweden, Switzerland, Spain and the United Kingdom. 
BBC commentator Graham Norton and Sweden's 2013 host Petra Mede will be hosting the event. They each spoke about their role; Graham said: "I love and am honoured to be co-hosting this special show. I cannot think of a better way to celebrate 60 years of the greatest song contest in the world. Petra said: "I am so looking forward to participating in this concert, this true celebration of a contest that has been a part of, not only my, but so many people´s lives. And it is an honour to co-host the show with Graham, who is fast becoming a Eurovision legend himself."
If you want to attend the concert you need to not wait long as the ticketsale will start already in three days, on the 6th of February. Later this week the performing acts should be revealed.