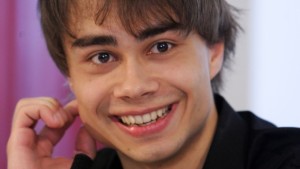 Tensions in Sino-Norwegian relations have taken a new twist this week, following the announcement that Chinese dissident and activist Lui Xiaobao was this year's winner of the Nobel Peace Prize. Enter last year's Eurovision Song Contest winner and unwitting victim, Alexander Rybak.
The decision by the Chinese government to cancel all forthcoming appointments with a high-profile Norwegian politician was expected, but that their apparent embargo would cause problems on a cultural scale has taken most people aback. The multi talented artist was due to take part in a much anticipated performance in an opera performance in the People's Republic. The Chinese Department of Culture however, literally saw red and felt they had to intervene, thus putting a spanner in the works for the young artist's performance plans.
Alexander was intended to play the lead role in the opera entitled Some Sunny Night, composed by Thomas Stanghelle, with his parents Natasja and Igor accompanying him as musicians in the piece. Exactly why the Chinese authorities decided to pull the plug on Alexander's performance still needs to be clarified. However, the composer Stanghelle has been informed via his contacts in China that the decision is a mere pawn in the larger plans of the authorities to impose a complete ban on all Norwegian artists intending to perform in the country.
Alexander is understandably hugely dissappointed and disheartened by the decision, having devoted a great amount of time and energy to the project. The artist was committed to promotion of the opera's subject matter, dealing with handicapped people. Alexander was slated to play a young man living with the effects of cystic fibrosis. His management also express their regret at the scuppered performance plans, claiming that the cultural event had major significance for awareness of the plight of the handicapped in China.
Links