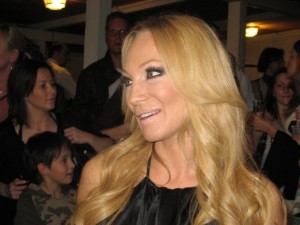 After having recovered from health problems over the last couple of weeks, Charlotte Perrelli was on stage again at Swedish crown princess Victoria's birthday party.
The 14th of July is Swedish crown princess Victoria's birthday which is always celebrated with a gala broadcast on television. Several Swedish and international artists such as Leona Lewis, Linda Bengtzing and Charlotte Perrelli performed their latest hits.
Charlotte Perrelli has recently suffered from health problems. According to Staffan Jordansson, her manager, the cause of the health problems is that there has been too much for Perrelli at both work and in her private life. After she won Melodifestivalen in March, she went on a promotion tour of 17 countries in preparation for the Eurovision Song Contest. Being a favourite among the fans in Belgrade put a lot of pressure on her as well.
Just a few weeks after Eurovision, Perrelli announced that she and her husband Nicola Perrelli, were about to separate. On top of the separation and the exhaustion of too much work, Perrelli suffered from meningitis which all together caused a collapse. After a couple of weeks rest at her parents house, Charlotte Perrelli is in good health. In addition to performing at Victoria day she will also appear in the show 'Rhapsody in Rock'.
To read more about Charlotte Perrelli, please visit her website, the link can be found below. 
 
Links