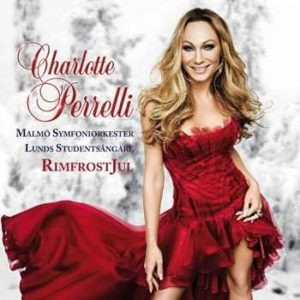 Swedish Eurovision Song Contest winner Charlotte Perrelli has released a Christmas album containing 13 songs all in Swedish. Several of the songs are however internationally known Christmas songs. This sixth album from Charlotte can be bought for only 8.95 euros.
Charlotte Perrelli won the Eurovision Song Contest in 1999 with the last name, Nilsson. She has ever since been one of Sweden's most popular singers despite only coming 18th in this year's Eurovision Song Contest final with the song Hero.
Rimfrostjul is Charlotte's 6th solo album, but only the second one in her native Swedish language.
Her latest album simply called Hero was released in Sweden in April this year and sold platinum. In September it was released in the U.S which was her first album released outside Sweden.
Take Me To Your Heaven, Charlotte's Eurovision Song Contest winner, made it to the charts in Norway, Belgium, the Netherlands, The United Kingdom and Sweden while Hero "only" made it to the charts in Norway, Finland and home country Sweden.
Rimfrostjul is recorded togehter with Malmö Symfoniorkester and Lunds Studantsångare. It contains the following 13 tracks:
1.    Rimfrostjul (The Christmas Song)
2.    Snöa, Snöa På (Let It Snow)
3.    O Helga Natt
4.    Hur Kan Man Leda En Kung (Who Would Imagine A King)
5.    Mitt Hjärta Slår För Dig (Little Drummer Boy)
6.    Ave Maria
7.    Mitt Önskebrev Til Dig (Grown Up Christmas List)
8.    Sen Kom En Vinter (Miss You Most At Christmas Time)
9.    En Släde For Två (Sleigh Ride)
10.  Som I En Julnattsdröm (I'll Be Home For Christmas)
11.  Dagen Är Kommen
12.  Känner Din Värme (Maybe This Christmas)
13.  Låt Julen Förkunna (Happy Christmas War Is Over)