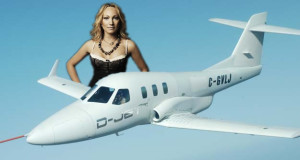 Several of this year's participants are busy with promotion tours around Europe. For Charlotte Perrelli from Sweden the program is so tight that it has been needed to hire a private jet that can make sure she manage to visit as many countries as possible.
In order to do the double and win the Eurovision Song Contest for the second time Charlotte Perrelli is touring around Europe promoting her song, Hero. As many of her competitors she has a tight schedule coming up the next couple of weeks. Instead of doing a smaller tour she has found the solution on what to do when the regular airlines can not bring her fast enough from A to B; From Friday she will be using a private jet and to expressen.se she says that it will also be used afterwards when needed. Such an occasion will come up the 6th of June when Charlotte has two performances in Sweden where a car won't be able to match the time schedule.
Charlotte Perrelli is among the favourites in this year's Eurovision Song Contest and should she repeat her 1999 victory she will be going on the winners tour which will also bring her around to various European countries in a private jet so one might say that her promotion tour can also be seen as preparations for what waits if she does win on the 24th of May in Belgrade.