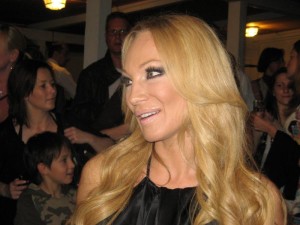 On saturday night there was a big party at Euroclub hosted by the Ukrainian delegation. Among the artists that performed at the club was Swedens Charlotte Perrelli. After her performance we got a quick interview with her.
We asked her what the biggest difference is competing 1999 and 2008 and she told us that there are two main differences and thats that it is 43 countries instead of 23. Another difference is that they have to do a lot of promotion for their songs.
Regarding the reception she got here in Belgrade she says it has been fantastic and she thinks it's really fun that so many of the fans here know the lyrics to her song Hero and sings along with her when she's doing promotion here in Belgrade. Over all she thinks it has been a very positive experience. She prepares for the semifinal on Thursday by promoting her song here in Belgrade. We pointed out that she already is number one at many of the fansites on the internet and asked her how she handles being the fans favorite? She explained that she tries to keep both feet on the ground and take one thing at the time. We thank Charlotte Perrelli for her time and wish her good luck on Thursday.
EuroVisionary would like to thank Viktoria Karlsson for this article.