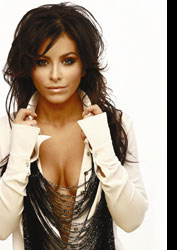 The music festival called Çeşme International Song Contest has started in Izmir, Turkey. This year is the 19th time the contest has been held in Turkey. Many popular singers and groups will perform on stage seperate from the contest. Among those are Ani Lorak and Ajda Pekkan.
Izmir, the third biggest city in Turkey, will be the host city for the 19th time this year. The concert with the festival ambiance will be between 30th June and 5th July with 5500 people per night in Çeşme Antic Theatre, with the co-operation of the president of Çeşme and EGE Television. The contest and the other festival parties will be watched by millions of people all over the world with the broadcasting of EGE TV.
Before the contest, there will be big concerts from powerful voices and famous stars during the festival organisation. This year's Eurovision queen Ukrainian Ani Lorak, the famous star Ajda Pekkan, who represented Turkey on Eurovision Stage with the song called 'Pet'r Oil', Turkish rap group Ceza, pop singer Bengü and Greek singer Vasilis Saleas will perform with their concerts.
The contest will start on the last day of the festival on 5th July at 20.00 CET and singers and musicians from Turkey, Germany, Finland, Sweden, Italy, Slovakia, Greece, The Netherlands, Lithuania, France and Ukraine will participate in the contest. Şafak Kahraman and pop singer Bengü will be the hosts during the contest. The big contest will be able to be watched all over the world and the show will take 3 and a half hours from the offical broadcasting service (EGE TV). The concerts and contest might also be followed from EuroVisionary by clicking Ege Tv's Internet Broadcasting Service below.
Links