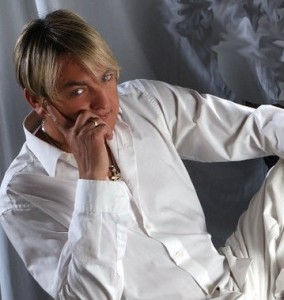 Carmelo Martínez is well known as one of the members of the most recognized band on the Spanish music scene in the 80s, La Década Prodigiosa who represented Spain at the 1988 Eurovision Song Contest. Since then, he has continued working on music and now he is back with this version of a great hit.
Since he was a kid Carmelo Martínez has been linked to the music business and he recorded his first album at the age of 8. As a singer he has been a member of bands such as Astarot, Kabala Sum, Alphaville, The Limit, Decadance, Eddie Klass & Dj Vice, Reil or Alpairo. In 1989 he left La Década Prodigiosa being replaced by Mikel Herzog, who later represented Spain at the 1998 Eurovision Song Contest. Carmelo then started a solo career.
As a producer, he has recorded nine albums for artists like Encarnita Polo (who participated at the national final in 1970), Las Supremas de Móstoles (runners up in the 2005 national selection) or Malena Gracia (candidate to represent Spain in 2008) among others.
Along his entire career, so far, he has recorded more than twenty-eight albums, some of them achieving the first position on the charts and he has been awarded with 14 platinum and 20 gold certifications.
Although La Década Prodigiosa achieved the eleventh position in the contest their song, Made In Spain (La Chica Que Yo Quiero) was very popular in their home country where it sold more than 500,000 copies of the album which contained the single. Since that time, there were many changes between the band members that were definitely eroding their popularity but, even today, the group still exists and they are still performing versions of popular Spanish songs although none of the original members remains on it.
Carmelo's latest project has been to record a new version of Contigo, the song that was popularized in the 70s by Paloma San Basilio who represented Spain at the 1985 Eurovision Song Contest with La Fiesta Terminó.
Below you can watch Carmelo's videoclip of Contigo. Here you will also find the original version sung by Paloma San Basilio and, as a reminder, the performance of La Década Prodigiosa at the 1988 Eurovision Song Contest.