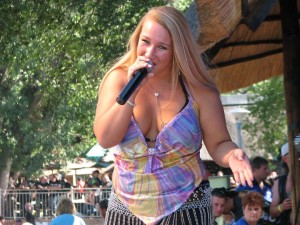 South African singer, Candy Benson, has included several Eurovision songs on her shortly to be released new album. Eurovision songs are now in big demand when artists release new albums in South Africa.
Candy has recorded Lose Control (Finland 2009) and Always (Azerbaijan 2009) in English. She has also recorded This Is Our Night (Greece 2009) and Is It True (Iceland 2009) in the Afrikaans language.
Candy is also going to record Satellite (Germany 2010) in German and also possibly in Afrikaans. She will also record Apricot Stone (Armenia 2010) in Afrikaans and Italian.
You can see Candy performing Lose Control in the video link below.
For more information about Candy visit her website at www.candyb.co.za