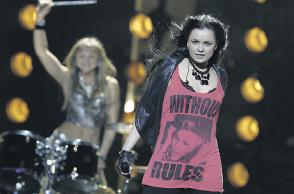 After the Irish song again failed to make an impression on the voting public, there are calls for the country that has won the contest the most, to withdraw from the event altogether.
Sinead Mulvey and Black Daisy finished in 11th position in the second semifinal last Thursday. This means that Ireland have only reached the final on one occasion when participating in the semifinal first. It represents a fall from grace for the country that has won the contest seven times, more than any other country.
The Herald newspaper wrote,"Despite a great performance from Sinead Mulvey and Black Daisy, it seems the current voting system is stacked against an Irish entry ever making it to the final selection, never mind the final few."
The Irish Independent was more to the point. The article was entitled "Right, We're Off'. Not seeking to make any friends or influence anyone, it went on to say "Isn't this competition called Eurovision? Doesn't that imply European involvement rather than a bunch of makey-uppy Eastern bloc car parks?'
'Now we have a bunch of countries that didn't exist a decade ago who, having stopped slaughtering each other, try to make amends by voting for each other.'

You can read the full articles by following the links below.
Links