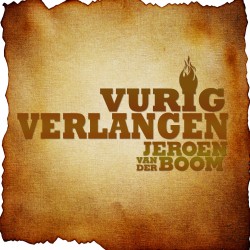 He represented the Netherlands at the 2009 Eurovision Song Contest as a part of The Toppers, but Jeroen van der Boom continues with his succesful solo career. The second single from his forthcoming album, produced in Sweden, has just been released.  
Three months ago Jeroen van der Boom released his single Kom Maar Op (Come on) and now Vurig Verlangen, which translates to Burning Desire, has just hit the stores. Both are to be included on his coming album.
Vurig Verlangen is written by Han Kooreneef and Daniel Gibson and has been produced in Sweden. About the choice of Sweden Jeroen van der Boom says: "In the Netherlands we are fast to put artists in boxes. Even when writing and recording songs we often thinks that the song should not sound like another particular song. In Sweden they just think about how they can make a good song. I wanted that too and therefore this single is produced in Sweden".
Jeroen van der Boom already had an excellent solo career when he got to represent his country at the 2009 Eurovision Song Contest, by something that mostly reminded of a soap opera. The trio De Toppers consisted of Gordon, René Froger and Gerard Joling had been chosen internally by the Dutch broadcaster, but shortly before the national selection where the TV viewers would pick, which song they should sing in Moscow Gordon and Gerard Joling got into a public fight, which resulted in the latter leaving the trio. As they needed another singer to replace him Jeroen van der Boom joined them – and got to sing Shine on stage at the Eurovision Song Contest.
As they returned home from Moscow, where they didn't manage to qalify for the final, Gerard Joling and Gordon settled their disagreements and Joling came back to the band that then consisted of four guys. Later Gordon has however also left making De Toppers back into a trio: Gerard Joling, René Froger and Jeroem van der Boom. They are still extremely popular in the Netherlands performing in sold out large concerts hall, but next to this Gerard Joling and Jeroem van der Boom still maintain a solo career. 
Below you can hear Vurig Verlangen while looking forward to the release of the album.