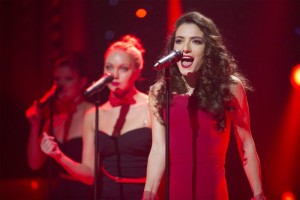 Last evening the first semi-final of Böyük Səhnə, the Azerbaijani national selection for the 2014 Eurovision Song Contest took place. The fourteen candidates performed in front of an expert jury and ten of them qualified to the second heat to be held next Sunday.
The first of three semi-finals of Böyük Səhnə was held yesterday evening in Baku, Azerbaijan. The show was hosted by Husniye Magerramova and Tural Assadov and fourteen artists performed to be among the ten who would move on to the next qualifying round. The fourteen hopefuls were performing covers of popular songs including some Eurovision entries such as Aphrodisiac and Glorious.
The results were determined by a jury of five members consisting of Eldar Gasimov (2011 Eurovision winner), Murad Arif (tv host), Tunzala Agayeva (composer and singer), Mubariz Tagiyev (singer) and Zumruz Dadashzade (professor of Baku Music Academy).
The ten artists who received the highest score from the juries advanced to next week's show while the four least voted were eliminated from the competition.
The results were as follow (qualifiers in bold):
Lala Sultan – Aphrodisiac (37 points)
Aydin Eyvazzade – Pumped Up Kicks (46 points)
Hülya Ibadova – You Are So Beautiful (45 points)
Samira Efendiyeva – All By Myself (43 points)
Elton Ibrahimov – Superstition (49 points)
Ayshebeyim Nagieva – Still Loving You (37 points)
Band Wave – San Gəlin (34 points)
Fuad Asadov – Give Me Your Love (46 points)
Khana Hasanova – Hero (44 points)
Erkin Osmanli – Girls Girls Girls (49 points)
Dilara Kazimova – Mercy (50 points)
Safa Eldar – Troublemaker (36 points)
Valeria Huseynzadeh (Rilaya) – Glorious (37 points)
Azad Shabanov – Fall Again (48 points)
Böyük Səhnə will continue over the next three Sundays, with the second semi-final scheduled to take place on the 16th of February at 19:00 CET, when the ten qualifiers will do their best to proceed to the next round. The third semi will be held on the 23rd of February, and the big final on the 2nd of March when we will know who will represent Azerbaijan at the 2014 Eurovision Song Contest.
You might also like to read: