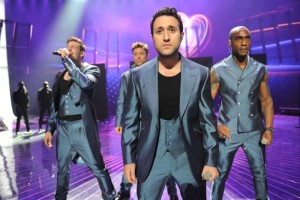 Highly fancied band Blue rehearsed for the first time this afternoon.  A huge amount of press interest has already been generated so big things are expected.
Some of the members of Blue already have Eurovision connections, so it seems natural that they are representing their country.  The BBC appear to mean business this year in that they commissioned Blue to pick the song they would sing.  Blue had picked this song as their comeback single – it wasn't written specifically for Eurovision.
Duncan, Simon, Lee and Antony are all in shiny blue suits, all designed slightly differently.  They have two male backing singers, both in dark suits.  The back drop switches between white and vivid green.
On stage are four screens, which show video footage of the band.  They enhance what is a fairly slick performance, although one of the screen was about seven seconds behind the others.  We get pyrortechnics during the song: at the end of the first chorus, during the last chorus, and at the end.  Vocally they were not perfect, but we've seen improvements from other songs between their rehearsals.
All in all, it is very effective.  Once they get the synchronisation of the screens right this will be a serious contender for victory.
In my view
As a journalist from the United Kingdom, I may be a little biased.  but after some of our efforts in the last few years, I feel proud to be British once again.  The UK can win Eurovision if they put their mind to it, and this is a serious contemporary song that is capable of winning.  I suspect a Big 5 nation may well walk away with the prize in Düsseldorf, and this could be it.

The opinion expressed in "In my view" are those of the author and are not necessarily the one of EuroVisionary.com.