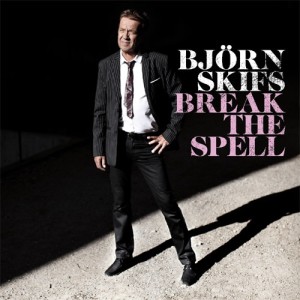 On the 16th of November Björn Skifs, double Swedish Eurovision Song Contest participant, will release a new album. The title song from this album has already been well recieved leaving high expectations for the album, that is entirely in English and includes a duet performed at the wedding of the Swedish Crown Princess Viktoria.
Four the past four weeks Björn Skifs' Break The Spell has been gaining popularity in Sweden, so much that it is at the top of Svensktoppen, a popular weekly charts programme on Swedish Radio 4. The song is the first single and the title from his next album that will hit the stores on the 16th of November.
The album includes 11 songs one of them being a duet with Agnes performed at the Swedish royal wedding last summer between Crown Princess Viktoria and Daniel Westling.  
Björn Skifs represented Sweden twice at the Eurovision Song Contest. In 1978 his Det Blir Alltid Värre Framåt Natten (It always gets worse during the night) ended 14th out of 20 participants, but three years later, in 1981 he improved a bit as he finished 10th with Fångad I En Dröm (Captured in a dream).    
Tracklist:
1. Break The Spell
2. Let's Kiss
3. Back To Where We Started From
4. When Our Lips Touch
5. I Already Know
6. Damned If I Do
7. You Got There In The End
8. Step Right Up
9. This Is Where The Story Ends
10. You Were Loved
11. When You Tell The World You're Mine (Bonus: Duet with Agnes)