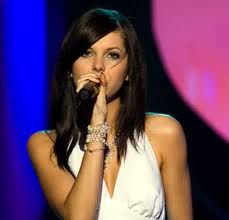 One-time winner of the Eurovision Song Contest Estonia concluded the search for its song for the 2013 Eurovision Song Contest tonight. Birgit Õigemeel triumphed over nine other Eesti Laul finalists, and will now go on to Malmö with the song Et uus saaks alguse.
Eesti Laul is known for showcasing some less formulaic styles of music for the Eurovision Song Contest.  Over the previous two weekends, 10 songs had fallen by the wayside, leaving 10 to fight it out for the ticket to Malmö.  Marko Reikop and Anu Välba guided us through proceedings, and a now familiar 50/50 jury and televoting system to determine the outcome.
The songs
1. With U – Rolf Roosalu (writer Rolf Roosalu)
Rolf got proceedings underway with this heartfelt ballad.  He was dressed in a white suit over a white T-shirt.  Alone on stage, with only some dry ice for company.  He gave this self-penned song his all, and the orchestration was pitched perfectly.  It was very good and would not have been out of place in a Disney film, but maybe just a little bit too like Kuula to win. 
2. Üle vee – Liisi Koikson & Söörömöö (writer Immi)
This six-piece vocal group were all in pale gold dresses.  Liisi led most of the song, with her backing group Söörömöö harmonising at appropriate moments.  It was slightly jazzy, with a heavy emphasis on a trumpet.  As is the case with the competition, it's not afraid to experiment with different styles of music and this was no exception.  It received a large round of applause.
3. Dance – Rasmus Rändvee & Facelift Deer (writers Rasmus Rändvee, Paal Piller, Karl Kallas)
Our next six-piece was a band that would not have looked out of place in the 1950s.  A young band, this rockabilly sound was again different.  It worked and its vivaciousness could be very catchy. The only downside, if there was one, was that some work would be needed on perfecting English. 
4. Enough – Elina Born (writers Stig Rästa, Fred Krieger)
Another song in English followed, with this five-member band singing a very listenable number.  The chorus was particularly memorable.  A good hook will always help a song win votes.  Despite the lead singer being a little off-key at the start of the song, she recovered very well.  They had their fans int he audience and got a huge cheer at the end. 
5. Meil on aega veel – Põhja-Tallinn (writers Jaanus Saks, Mark Erik Kammiste, Alvar-Risto Vürst)
We reverted to Estonian for this song, performed by another five-piece band.  This had an Adele-lookalike singer and two rappers in the style of the UK's Daz Sampson. It was very different.  The contrasting styles of the rap and singing did make you sit up and notice.  However, rap has a very checkered history in Eurovision, so to do well it would have to be very good rap.
6. Suuda öelda ei – Kõrsikud (writers Andrus Albrecht, Alari Piispea, Lauri Liivak, Jaan Pehk)
Kõrsikud are three larger men in dark suits and hats.  They each play instruments – guitar, ukulele and xylophone.  We had a more country sound to it.  At the same time, it had echoes of a song by U2.  It was pleasant enough so if the Estonian voters wanted something quaint and pleasantly different, this could be the one. 
7. Et uus saaks alguse – Birgit Õigemaal (writers Mihkel Mattisen, Silvia Soro)
This song was a ballad that the fresh-faced Birgit sang in a long white dress.  Swathed in darkness for the verse, this opened up for the chorus to reveal five backing singers. It had a verypositive sound and was very effectively staged.  Birgit had the perfect voice for this song, and it was arguably the best we'd heard so far.
8. Ring the alarm – Teele & Tuuli & Ula (writers Priit Uustulnd, Teele Viira)
The three named singers were joined by DrumAttack – two girls who each had a full drum kit.  The song was the most dance-floor orientated we'd seen tonight.  The vocals were maybe a little weak but the stage show made it memorable. A very enjoyable performance.
9. Meiecundimees üks Korsakov läks eile Lätti – Winny Puhh (writers Silver Lepaste, Indrek Vaheoja)
Our penultimate act were dressed this time as wrestlers, complete with masks on most of them to hide their faces.  The lyric was very clear, sung in the now familiar falsetto of lead singer Indreks.  He had a furry face.  The camera work reflected the frenetic nature of the song, flashing between different members of the band, or split-screen, or shaking.  As a stage show, the only word for it was unique, as towards the end of the song many of the members had ropes lifting them off the stage.  The biggest cheer of the night went to this song. 
10. Päästke noored hinged – Grete Paia (writers Grete Paia, Sven Lõhmus)
Finally, Eurolaul and Eesti Laul veteran Sven Lõhmus was back as the writer of this song performed by co-writer Grete.  She was dressed in green and seated at a white grand piano.  It a dramatic presentation, with lasers and blue lights.  For the last chorus, Grete moved down the catwalk.  An earlier draw may not have favoured this, but last on would definitely boost its chances.  It could even pass as a suitable floor-filler song.
The show
The show opened with Estonia's song from from the 2012 contest in Baku, Kuula, performed by Ott Lepland.  He was joined on stage by a large choir.  It made a great start to the show.  We were then introduced to the 10 acts that were competing tonight, who walked down one of the gangways between the crowd at the Nokia Convert Hall.
After the 10 songs had been performed, the public were given 20 minutes to vote by telephone or SMS (text).  Each song was briefly reprised.
On stage next to fill the interval was Ott Lepland, Tanel Padar and Jalmar Vabarna sing Jõesäng.  They were accompanied by a band and this was an interesting song, bearing in mind Ott's and Tanel's slightly different styles.  This was their new single.
While the phone lines were still open, the 10 jury members called gave their votes.  These were Sandra Nurmsalu, Marten Kuningas, Tõnis Kahu, Toomas Puna, Sofia Rubina, Owe Petersell, Reigo Ahven, Marju Länik, Toomas Olljum and Erik Morna.
Kõrsikud – 85
Birgit Õigemeel – 76
Liisi Kõikson – 75 
Winny Puhh – 65
Grete Paia – 65 
Rasmus Rändvee – 56
Rolf Roosalu – 55 
Elina Born – 52
Põhja-Tallinn  – 42
Teele & Tuuli & Ula – 34
These were converted to points 10-1, before the public votes were added.  These combined votes yielded two songs that would go to the super-final.  The final scores for the top three weren't revealed but the singers through were Birgit Õigemeel and Grete Paia.  Winny Puhh finished third.
The phone lines were thrown open again for 10 minutes, and while this happened the song Eesti mees original were performed by Bombillaz ja tantsumeeskond Vabajalg. It was an interesting act with the singer in middle-eastern clothing and various dancers dressed very individually.
After a brief recap, band HU? performed Põhjamaa? as the clock to close the televoting counted down.
The winner was announced, with no indication of how many votes were cast.  And it was..
Birgit Õigemeel  
The voting
Estonia in the Eurovision Song Contest
The country's first dalliance with Eurovision was in the Ljubljana  preselection in 1993. Janika Sillamaa sang Müretut meelt ja südametuld but she failed to make it to the contest in Millstreet.  Silvi Vrait took her place in Dublin one year later, but finished 24th out of 25 with Nagu merelaine.  However after this shaky start, between 1995 and 2002 Estonia became one of the contest's success stories, finishing in the top 10 on six out of seven attempts. 
In 2001 Estonia even shocked everyone with the surprise win of Everybody, performed by Aruba-born Dave Benton and native Estonian Tanel Padar.  Since the introduction of the semi-finals in 2004, Estonia has made the final on three occasions out of nine. Notably, two of these three final appearances have been with songs in Estonian, which have become classics in their own right.  In 2009 Urban Symphony (fronted by Sandra Nurmsalu) took Rändajad to sixth place, while last year in Baku Ott Lepland sang the ballad Kuula, also making sixth place. 
You may also wish to read