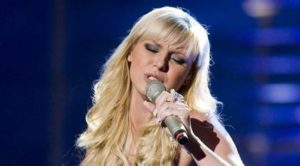 After Sanna Nielsen won the public voting, but lost the chance to represent Sweden in Belgrade due to jury points the question in Sweden is now again if their system is fair or not – right now Sanna Nielsen has all the sympathy. 
When Martin Stenmarck won the Swedish final in 2005 many Swedish fans were upset. They felt robbed, as it was the jury points that ended up giving him the victory despite that the viewers had another winner. Now the same thing happens again and Charlotte Perrelli is facing the fact that not everyone feels she deserved tonight's victory.
Sanna Nielsen won the public voting, but the jury only placed her in third position with 74 points towards Charlotte's 114 points. She was so far ahead that even a clear victory from the public wasn't enough to help her get to Belgrade, but she might still be there: "The opinion from the public is more important than the points from the jury – but I might go down to Belgrade and watch it there", she says to expressen.se
Sanna gets support from BWO who ended up in a total third position: "We have always believed in Sanna, it's a great song that would have done well internationally", they say to Expressen. When asked about Charlotte's chances in Belgrade they feel pretty sure that she won't do the double and win the Eurovision Song Contest for the second time: "She won't be a disaster, but it has no chance to win", Alexander Bard from BWO says.
The winner Charlotte Perrelli is of course happy that she won, but she also joins the choir of Sanna supporters: Sanna was my favourite and had I been able to vote, she might have gotten my vote", Charlotte says after her victory.
Expressen.se is asking its readers the same question that was discussed a lot just after Martin Stenmarck's victory in 2005: Should the jury votes be cancelled and Melodifestivalen decided only on public voting. Right now at midnight CET the result shows 62% in favour of doing that.
Last time Sweden was in this situation with a winning song not chosen by the televoters they didn't do well. Martin only recieved a total of 30 points and ended up 5th to last in Kiev! Time will tell if Charlotte will manage to do better than that, but first job seems to be to convince the Swedes that she is a rightfull winner who deserves their support in Belgrade.