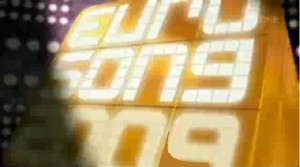 The deadline for submitting entries to RTÉ for Eurosong 2010, the Irish selection procedure, closed on February 1. The five-man jury, led by Linda Martin, are believed to have selected the lucky six finalists for the show on March 5.
RTÉ received approximately 300 songs for Eurosong 2010. Many well-known names are rumoured to be among the entrants. Niamh Kavanagh, who won the contest in 1993, Ronan Keating (songwriter), Mikey Graham (singer/songwriter), Brendan Graham (wrote the Irish entries in 1976, 1985, 1994 & 1996) (songwriter), Ralph Siegel (songwriter), John Waters (songwriter) and Karl Broderick (songwriter).
While Mikey Graham will sing his own song if selected another Boyzone member, Ronan Keating will not be singing his. Ronan's composition, if selected, will be sung by Justin Lee Collins, a well-known British comedian. Collins is recording a documentary-style programme for British television about his quest to get to the Eurovision Song Contest. He has already made several appearances on national radio and television here and it seems sure that his song, All I ever want is you, will be selected.
Niamh Kavanagh is trying to make her return to the contest, 16 years after her win in Millstreet. Half the team behind her song will be familiar to Irish Eurovision fans. Niall Mooney and Jonas Gladnikoff wrote Et cetera for Sinead Mulvey last year. Niall and Jonas wrote the song along with the Swedish husband and wife duo Mårten and Lina Eriksson, who are no strangers to national finals either.
That's not where the Swedish flavour ends though. Both Alexander Bard (BWO) and LaGaylia Frazier have also entered songs to the Irish selection.
Changes to the selection procedure mean that, like in Sweden, the organisers of the competition will have the power to change the singer of an entry. This, however, seems unlikely given the calibre of the names involved.
Another change is that the finalists will have the right this year to make their entry public in whatever way they want to. Normally RTÉ keeps all the entries a secret until the week of the competition when they're first aired on the Mooney show on RTÉ Radio 1.