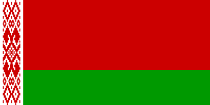 Belarusian broadcaster for the Eurovision Song Contest ONT, who is organising the country's entry for the first time, has announced that the Belarus national final will be held in February. The concept is also revealed.
The national final will be on tv as a "musical court". This years Belarusian national final will have 5 semi finals and a final for the Eurovision Song Contest 2010.
The notable rules are;
– There will be total 25 songs in the semi-finals and there are five songs each semi-final.
– A jury will listen to the songs and choose one of them from each semi final to go through to the final. The public will vote via SMS for the other songs.
– In the final, there will be 10 songs, 5 selected by jury and 5 selected by the people
The first 5 songs are available on ONT's webpage. You can listen here. The best Belarus result was in Helsinki in 2007 with Work Your Magic. Dmitry Koldun finished 6th with 145 points.