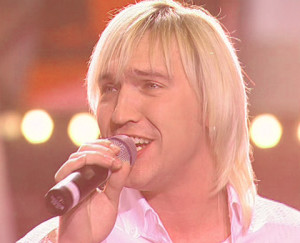 After a mammoth selection process, the televoters of Belarus have decided – Piotr Elfimov will represent Belarus in the Eurovision Song Contest 2009 with Eyes that Never Lie.
Eurofest, the national final of Belarus, came to a head on Monday 19th January with Piotr Elfimov winning the ticket to Moscow in style. 
Five songs competed in the national final, and Elfimov secured over 41 percent of the televotes:
Eyes That Never Lie – Piotr Elfimov
11,475 votes
Fantastic Girl – Gunesh
7,949 votes
Carry On – Litesound and Dakota
4,985 votes
Wind in the Head – Shpatsyruem
2,804 votes
My Day – Domenica
1,225 votes
At a press conference after the Eurofest final, Elfimov indicated that unlike last years Belarussian entry, Eyes That Never Lie would not be changed before the Eurovision Song Contest in May.
Belarus failed to qualify to the final at last years Eurovision Song Contest, where Hasta La Vista came 17th in the second semi-final in Belgrade with 27 points.
You can see the semi-final performance of Eyes That Never Lie below.
http://uk.youtube.com/watch?v=_14DqiGhIU4
In my view
So what do you think?  In my view it's not the best that Belarus have sent, I would have liked to see Gunesh get the ticket to Moscow, but then you can't argue with the televoters, right?  I feel that Belarus have lost their way since 2007 – Work your Magic was my fave from the Helsinki contest!

The opinion expressed in "In my view" are those of the author and are not necessarily the one of EuroVisionary.com.