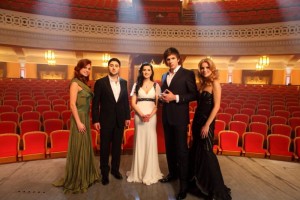 3+2 had their first rehearsals this afternoon and there's a lot going on. Belarus has several gimmicks and props that they plan to use. The only problem is that it's all a bit much.
There will be the five group members on stage and they'll be joined by a pianist at a white grand piano. The three girls are dressed in bronze, silver and gold dresses. But they're not just dresses, oh no, that'd be too easy. Close to the end of the song they grow butterfly wings.
That's not before one of the camera shots has two butterflies on a bit of string. It's looks a little funny. In fact, the whole press area erupted into laughter when it was first shown.
That's not all the gimmicks though, they also drop thousands of multicoloured butteflies from the ceiling towards the end of the song.
All the gimmicks aside the stage looks very good. The use the same drapes as Aisha from Latvia but now they look Bronze.
The Belarussian delegation needs to sit down and have a think about dropping at least one of the gimmicks.