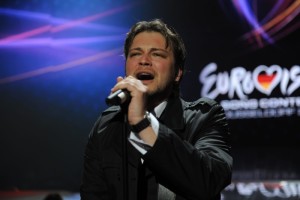 Having failed to get to the final since 2007, the pressure must surely be palpable for Vlatko and his dancers. If he feels the pressure, he certainly didn't let it show, giving us a very professional first rehearsal.
Vlatko is wearing a black mid length jacket, white shirt and dark blue jeans. His dancers (5 men and one woman) are all in white, with baggy pants and white shirts. The woman is also wearing a gold jacket over her shirt. The dancers outfits don't seem to match that of Vlatko, with him looking casually elegant while they look as if they've just come out of an athletics club for teenagers!
The staging during Macedonia's performance is simple and effective. With no use of props or gimmicks on stage, theirs is a relatively straightforward entry. The backdrop is interesting, with images of what looks like a revolving box of some sort, the box consisting of various compartments, looking rather like window displays with various items such as high heels, glitterballs as well as the letters spelling Rusinka in cyrillic characters. The lighting is equally uncomplicated, with the orange rays bursting across the stage.
Vlatko enters the stage from behind his dancers who are standing motionless with heads bowed. They bound across the stage before taking their places behind Vlatko at the front of the stage, striking various poses. Vocally, Rusinka is not exactly ground breaking in terms of arrangement, with the singer turning in a safe, solid performance, looking and sounding very comfortable in front of the camera. The song opens well, with a dynamic and dramatic sound which carries well in the hall. Towards the end of the number Vlatko picks up a loudspeaker to yell something into the camera – just what is said is uncertain as it is completely inaudible and the effect is wasted, failing to come across in the hall.
Rusinka is definitely Balkan in flavour, combining Balkan rhythms and sounds with a rockier sound and plenty of "hup" exclamations – similar to the Greek  "opa!". It is a heavily choreographed number, with the dancers linking arms towards the end of the song and breaking into a Zorba routine (the traditional Greek dance) before launching into what looks like an aerobics session, with all including Vlatko jogging on the spot.
In my view
Difficult to say where this will end – receiving an extremely lukewarm reaction from those present in the arena. Having had no prior opinion of the song, I left the rehearsal feeling rather impressed with the staging actually.

The opinion expressed in "In my view" are those of the author and are not necessarily the one of EuroVisionary.com.