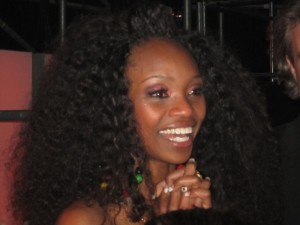 Things just don't seem to be going Stella Mwangi's way lately. The latest shocker to involve the singer happened on Saturday night in Oslo at a much publicised concert. After Haba Haba in Düsseldorf, Ms Mwangi has struggled to keep a high profile in the national media – incidents such as this certainly don't help her cause, that's for sure.
Rapper Stella Mwangi turned her back on the bad girl rapper image and slipped into the slightly friendlier African party girl image. The transformation did little to help the artist at the Eurovision Song Contest in 2011 though, with Haba Haba failing spectacularly to make it to the final, depsite being tipped as one of the hot favourites to win. The Mwangi momentum seemed to stop abruptly upon her return home, the follow up single Lookie Lookie failing to have any impact at all and her subsequent album Kinanda hardly barely making the top 20, limping in at number 15. Since then, Ms Mwangi has struggled to keep herself in the spotlight, figuring in the media as a result of personal tragedy rather than artistic triumph. An ill advised participation in the popular Norwegian entertainment show Skal Vi Danse helped to give the singer limited further exposure but nothing more. Stella Mwangi figured once more in national headlines early this year, following the death of her father as the result of a hit and run incident. Since then, things have been pretty quiet around her, that is up until now.
The latest shocking news to involve the rapper took place on Saturday night at the Nicki Minaj concert that took place at the Oslo Spektrum. Reports from a number of eye witnesses claim that Mwangi got into a spot of bother with another female concertgoer. One of the witnesses claims to have seen a fight begin with Mwangi appearing as if from nowhere, flying into the midst of the action, to the right of where she was standing. Security guards are reported to have intervened, dragging the girls apart, but to no avail."After half a minute or so, the girls started fighting again and that's when things got out of hand and several others became involved. Punches were thrown, hair was pulled and they said some pretty nasty things to each other."
Mwangi has a completely different version of the event and flatly denies any involvement. Press manager at EMI music, Ida Lyxzen commented briefly on the matter saying "During the concert there was some pushing and shoving involving Stella's friends. Stella was not involved and did not perceive the situation as dramatic at all. As a matter of fact, she later returned to talk to the security guards and to watch the rest of the show", she commented to Kjendis.no.