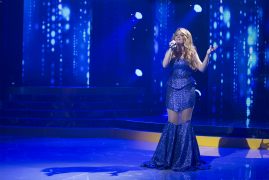 This evening the third show in the Azeri selection Böyük Səhnə was broadcast by İçtimai. Six participants battled for qualification to the final next weekend. The final three performers are: Dilara Kazımova, Erkin Osmanli and Khana Hasanova.

The second semi-final in Azerbaijan's national selection was held
this evening in Bakü with Hüsniye Maharramova and Tural Esadov as hosts. The six participants listed below battled for the next round by showing their skills
in different music styles including Eurovision entries.
Samira Efendiyeva
Elton İbrahimov
Khana Hasanova
Erkin Osmanlı
Dilara Kazımova
Asad Shabanov 
The results were determined by a five member panel consisting of
Sabina Babayeva (2012 Azeri representative), Murad Arif (TV host),
Tunzala Agayeva
(composer and singer), Mubariz Tagiyev (singer) and Zumruz Dadashzade
(professor of Baku Music Academy). 
The qualifying finalists were Dilara Kazımova, Erkin Osmanli and Khana Hasanova.
Böyük Səhnə will continue with the final show on next Sunday March 2nd. The three will once again perform their best to secure the golden ticket to Copenhagen.

Azerbaijan at the Eurovision Song Contest
Azerbaijan made its debut in 2008 and has sucessfully qualified to the final in each year since then. They won the Eurovision Song Contest in 2011, with a stunning performance by Ell and Nikki. Last year Farid Mammadov represented his country in Malmö where he finished with a respectable 2nd place.
Click on the video below to see last
year's Azeri representatives Farid Mammadov's performance recorded using
Eurovisionary's ground-breaking 3D technology. It can easily be turned
off in the player to give you a standard 2D video. If you do not yet
have a pair of suitable glasses we recommend getting hold of EuroVisionary's 3D glasses.
You might also like to read: