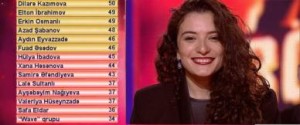 Tonight the third show in Azeri selections Böyük Sehne was held. It was the second live show where the expert jury narrowed down the participants to six.
The second of semi-final in Azerbaijan's national selection was held this evening in Bakü with Hüsniye Maharramova and Tural Esadov as hosts  The ten participants battled for the next round by showing their skills in different music styles including Eurovision entries.
The results were determined by a jury of five members consisting of Sabina Babayeva (2012 Azeri representative), Murad Arif (TV host), Tunzala Agayeva
(composer and singer), Mubariz Tagiyev (singer) and Zumruz Dadashzade
(professor of Baku Music Academy). 
Let's take a look at tonight's results:
Aydın Eyvazzadeh – 39 points
Hülya İbadova – 43 points
Samira Efendiyeva – 48 points
Elton İbrahimov – 45 points
Fuad Asadov – 39 points
Khana Hasanova – 46 points
Erkin Osmanlı – 49 points
Dilara Kazımova – 48 points
Rilaya – 42 points
Asad Shabanov – 49 points
The eleminated names were Hülya İbadova, Rilaya, Aydın Eyvazzadeh and Fuad Asadov.
Böyük Səhnə will continue over the following two Sundays, with the
semi-finals scheduled to take place on the 23rd of February at 19:00 CET,
when the 6 qualifiers will do their best to proceed to the next
round. The big
final on the 2nd of March when we will know who will represent
Azerbaijan at the 2014 Eurovision Song Contest. 
You might also want to read: