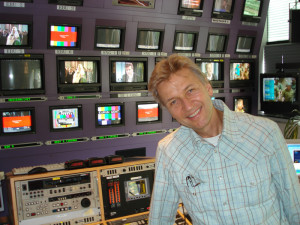 Jørgen De Mylius who has hosted the Danish final 11 times and has been DR's commentator at the Eurovision Song Contest a total of 24 times has received an award from DJBFA, the Danish songwriter Union.
Jørgen De Mylius, or Mylle as he is also referred to as, is born in 1946, finished his journalist education in 1968, but started working for DR five years earlier when he as a teenager contacted DR to complain about the missing radio programs for the young people who wanted to hear pop and rock music. His enthusiasm paid off as DR hired him to make these programs. Together with his work for DR, Jørgen has also worked as a radio journalist in the U.S, France, Luxembourg and even Japan! In 1990/91 he studied film and TV at UCLA in Los Angeles.
When Denmark re-joined the Eurovision Song Contest in 1978 Jørgen De Mylius got his TV debut as the host of the Danish final, the Dansk Melodi Grand Prix, and as host on the International final. As he continued with this work he became synonym with the Dansk Melodi Grand prix and in the 80's he got himself a solid fan base, but also the opposite. He became somebody people either loved or hated – just as it was the case with the Eurovision Song Contest.
Aside from being a radio and TV host Jørgen De Mylius has also written several books, among those a book about the Dansk Melodi Grand Prix through the years and a biography about his personal friend Cliff Richard, who represented the United Kingdom in the Eurovision Song Contest in 1968 and 1973.
He has written more than 400 pop songs to Danish musicians such as Bamses Venner (Eurovision Song Contest 1980), Birthe Kjær (Eurovision Song Contest 1989) and Tommy Seebach (Eurovision Song Contest 1979, 19981 and 1993) and at a few occasions he hasn't been afraid to try his talents as a singer as well, to little success.
Jørgen De Mylius received the award, that consist of a statuette and 10,000 dkr, for his work with popular music through more than 40 years.