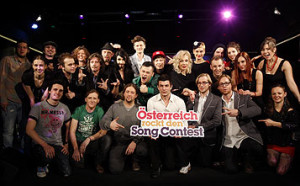 After the premierre show of the songs which will compete at the Austrian national final, the eigth of participating songs are published online by the official broadcaster ORF. As the nine participating names secured their positions qualifying to the final in December, Mary Broadcast Band gets the wildcard as the 10th act.
Austria made a great comeback to the Eurovision Song Contest last year after a break of three years and their representative Nadine Beiler succesfully qualified to the final.
This year's selection process in the country kicked of earlier than many countries as they picked their national finalists after a long and detailed process. In December 2011, the complete list of nine qualifiers were known and earlier this year, broadcaster ORF picked the tenth name, Mary Broadcast Band internally to participate at the grand final:
!DelaDap
Blockstars
James Cottriall
Krautschädl
Papermoon
Norbert Schneider
Trackshittaz
Valerie
Conchita Wurst
Mary Broadcast Band 
After the lists of finalists were known, it was time to premierre the participating songs which took place at Volksgarten in Wien on sunday night. Nine out of the ten participating song were presented to public – Blockstars were announced to be presented on February, 2nd.
Monday morning, ORF also published mp3 versions of eight participating songs online via its radio channel Ö3's website where the line up were revealed. You can hear the songs by clicking on the titles (it requires any media player) :
Please note that mp3 versions of Krautschädl's and Blockstar's songs are yet released by ORF, but Krautschäl's song can be heard on youtube by clicking on the title below:
The Austrian national final will be held on the 24th of February at the ORF Studios. Mirjam Weichselbraun, Robert Kratky and Andi Knoll will be hosting the national final.
Below you can watch last year's Austrian representative, Nadine Bailer's The Secret Is Love in the performance from the Eurovision Song Contest, where she qualified for the final and finished 18th.