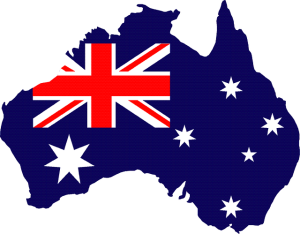 Last year they delivered the interval act and this year they will be taking part in the actual contest. Big5 becomes big6, and as the only one of them, Australia will even be voting in both semi-finals. The country will however not host the contest on own ground should they win.
They have been broadcasting the show for years, and had their own delegation due to their need for a commentator. As a thank you for their interest in the Eurovision Song Contest, the interval act of last year's Eurovision Song Contest was dedicated to Australia. Jokes were made about Australia taking part, but with them geographically being placed quite far out from the European Broadcasting Zone, it was a joke no one imagined to become true. That was until today where EBU announced that dispensation had been given and Australia is now taking part in the 2015 contest.
With the announcement of Australia as a participant came also the information that they have been awarded with a spot in the final, and as the only of the 40 participating countries they will be voting in both semi-finals, and thus have much more influence.
From EBU, Executive Supervisor of the Eurovision Song Contest, Jon Ola Sand says: "It's a daring and at the same time incredibly exciting move. It is our way of saying; let's celebrate this party together!" 
And from Australian broadcaster, SBS, Managing director Michael Ebeid says: "We are very excited to have secured this historic opportunity for Australia to be represented on the world's biggest stage at the 60th anniversary of the Eurovision Song Contest and are honoured that the European Broadcasting Union has supported us to achieve this ambition. SBS has been broadcasting Eurovision for over 30 years and we have seen how Australians' love of the song contest has grown during those years." 
So far it is only in place that Australia will have a jury, but it is being looked into whether or not they also will have a televoting. 
Australia's participation is mentioned to be a one-time thing, and should they win the contest, they will co-host next year's Eurovision Song Contest on European ground. It is also mentioned that currently there are no plans to let countries like China, India or United States to take part, but who knows what the future will bring.