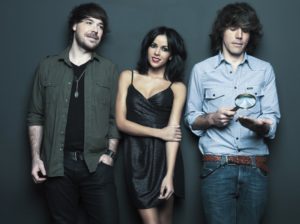 RTVE's site visitors have decided with their votes that Atrévete will be the third song for El Sueño de Morfeo to sing at the national final scheduled to be held on the 26th of February. It joins the previously selected songs whose titles are Contigo Hasta El Final and Dame Tu Voz.
Earlier last week there were presented the four candidate songs that had been composed by the members of El Sueño de Morfeo to become this year's Spanish entry at the Eurovision Song Contest. Among the four chosen songs, two of them (Contigo Hasta El Final and Dame Tu Voz) had been previously selected and already qualified for the national final. The decision on which of the other two candidate songs, Atrévete or Revolución, will proceed to the final was left up to the audience who had seven days to listen to them and vote for their favourite through the broadcaster's website.
Atrévete obtained a 69.9% of the total votes received against Revolución becoming the third song that El Sueño de Morfeo will perform at the national final. Once the result has been revealed, the lead vocalist of the band, Raquel del Rosario, has stated via her official Twitter account that her favourite was Revolución but anyway, she trust the votes of the audience and "it is now set in stone".
The Spanish entry for the 2013 Eurovision Song Contest will be finally chosen by a mix of jury and televoting on the 26th of February in a televised show. It will be the first time we will listen to them performing on stage the three finalist songs: the romantic Contigo Hasta El Final, which is a journey of emotions with the sound of the bagpipe as the main protagonist, Dame Tu Voz, with electronics elements combined with Celtic sounds and Atrévete, an upbeat, cheerful and lively song.