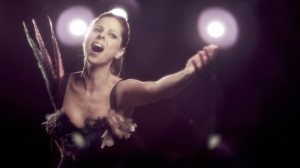 In a video clip that has been released today we can hear a new version of Quédate Conmigo sung by some well-known voices. Among the singers we find some very familiar faces like national final's contestants and other recognized musicians from all around the world.
This year's Spanish hopeful Pastora Soler has the support of her colleagues and this video proves it.
Among these artists we find names like Rui Andrade who has participated in the Portuguese Festival da Cançao twice (in 2011 with the song Em Nome Do Amor when he achieved a third place and this year when he performed the song Amor A Preto E Branco), the Moldovan singer Valeria Morari who was among the finalists in the Moldovan national selection for this year's Eurovision Song Contest and Reidun Saether who was also a finalist in the Norwegian national final with the song High On Love.
The popular singer Lianie May from South Africa who achieved a great success with her version of the Danish Eurovision entry In A Moment Like This also wanted to show her support for the Spanish candidature together with one of the backing singers of the 2011 Cypriot Eurovision entry, Christos Nikolau.
In the video we can also listen to the British singer, songwriter and actress Sara Quist, the Swedish twins Ylva and Linda and the Canadian-South African singer Jami Stanley.
Pastora also has the support of artists from her homeland among whom we find the Spanish artists Baltanás, Ana de Lois, Eric Oloz and Anael who was one of the authors behind the song Una Lágrima which competed in the Spanish national final in 2007 and nowadays she is about to release her first album written by the Swedish composers of Quédate Conmigo Thomas G.son and Tony Sánchez-Ohlsson.
Pastora Soler, after watching the video, has written on Twitter that she cried when she listened to her song performed by all these great voices.
You can watch the video below: