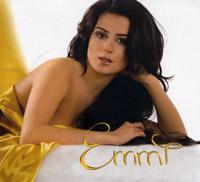 Although there are only four days left to the Armenian National, where a song will be selected for their chosen singer, Emmy. The complete list of songs have now been revealed.
As things have been a bit quiet in Armenia in terms of its national final this year, finally the full versions of the songs have been released. All 5 songs will be performed by Emmy in the national final on 5th March. The official broadcaster, ARMTV, originally scheduled the date of the national final for 26th February, but later switched it to 5th March. You can hear the songs here.
•    DerHova – Ayo
•    Vahram Petrosyan, Mariam, Lazarro – Hi
•    Apricota, Sosi, Murzo – Boom Boom
•    Martin Kesici – Goodbye
The winning song will be chosen by 50/50 combination of televoting and juries.
The national final will take place in ARMTV studios in Yerevan on 5th March. The show will start at 18.30 CET (21.30 local time) and will be broadcast by the main channel of the foundation, ARMTV 1. The show can also be watched via satellite and internet that should be found at eurovision.tv's main webstream, ESC TV.