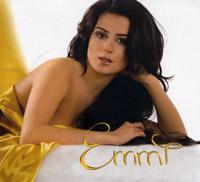 Armenian national broadcaster ARM TV had announced that they were searching for a song for Emmy, and have just recently revealed more information and dates surrounding the selection of the song that will send her on her way to Düsseldorf.
Following the deadline for song submissions on the 23rd of January, official broadcaster ARM TV announced that they are ready for the final show to start Emmy's journey to Düsseldorf.
According to OGAE Armenia's source, a total of 70 songs were submitted to the channel and these were then reduced to further 15 possible candidates, A jury comprising members of the Art Council of ARM TV as well as the performer herself will then sift through the alternatives to shortlist a final 4 songs. The show will take place on the 19th of February and it will be aired by ARM TV. Emmy will perform 4 entries and the winning song will be chosen through a 50%/50% combination of jury and televoting.