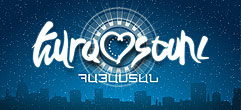 After days with speculations about what Armenia would do with the 2012 Eurovision Song Contest the official annoucement of the country's withdrawal came this morning. As Armenia was drawn in the second semi-final this leaves two semi-finals with 18 each. 
As soon as Azerbaijan won the 2011 Eurovision Song Contest held in Düsseldorf, Germany last year the possibility of a contest without Armenia became a talked about issue. Though EBU tried to assure the country of their safety in relation to this year's Eurovision Song Contest in Baku in May, the Armenian broadcaster waited a long time with revealing anything about their plans for finding an entry that fans started speculating about when the withdrawal would come. 
This morning EBU officially announced that Armenia has withdrawn from the contest due to "circumstances beyond our control lead to this unfortunate decision", as Jon Ola Sand, Executive Supervisor puts it.
As Armenia was drawn in the second semi-final with 19 participants this leaves two semi-final with 18 each for the 2012 Eurovision Song Contest. Last year Armenia was represented by Emmy singing Boom Boom, which for the first time in the country's Eurovision history did not make it to the final. That song you can see below.