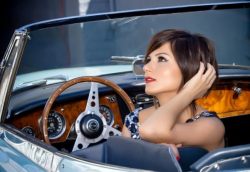 Armenia compete for the sixth time this year, and hope to make it six years in Saturday night finals.  How will they fare with this year's on-stage gimmick?
Emmy performed all the songs in the Armenian national final, with Boom boom winning the ticket.  Her first stage rehearsal revealed the on-stage prop that followed on from last year's apricot tree – more on this later.  Her outfit, which she didn't wear today, will be silver and white, akin to Ani Lorak's costume in 2008.  She is joined on stage by four male backing singers/dancers, and one girl.
The general motif of the song will be boxing.  Several of the guys wear boxers' gowns at the start of the song.  More importantly, Emmy herself emerges from a giant boxing glove taking centre stage.  The theme is continued later on when streamers appear to form a boxing ring.  It was, in general, a highly choreographed effort.  Behind her, we had blue and white stars rotating and pulsating to the beat, changing to red towards the end.
This first rehearsal didn't go completely according to plan, with Emmy missing sections of the song.  However, next Tuesday is a long way away, and there will be plenty of opportunity to polish the performance.