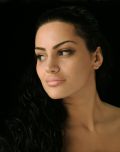 Armenia took to the stage today for their first rehearsal.  This country has established a tradition of quality songs and respectable finishes.  Can this continue?
The first thing that struck the assembled masses with Armenia was props aplenty.  The curtains last seen with Belarus made their second appearance, along with everyone's favourite effect – dry ice.  We also have several rocks and candles and stage centre a very large apricot stone, some 2 metres in width.
Eva herself moves around the stage, and is supported by a dancer, three backing vocalists and a man playing a whistle – the sort of whistle that songs from the Caucasus seem to like.  On the night she will, naturally, be dressed in a flowing apricot dress, with the remainder dressed in variations of black and tan traditional costume.
There are pyrotechnics and fire throughout, plus a surprise at the end emanating from the aforementioned paricot stone.  see if you can guess what that is.
The whole package is very effective, and the camera seems to like her.  She was perhaps holding back a little, but with the second semi-final over a week away, she will not want to peak too early.
Despite it being performed second in this semi-final, it is likely to qualify.