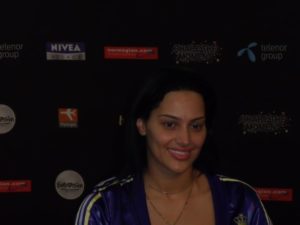 Eva was on stage again this afternnon for her second rehearsal and everything went as smoothly as the first time. The entry is one of the few that almost everyone in the press centre is very happy with.
Eva is now wearing her stage outfit which is a peach and white corset that flows to the ground. She is also wearing blue jeans but it looks like they're not actually part of the outfit.
There is a lot in this with the props, the pyrotechnics, the dancing and the dry ice but ti all comes together to form one of the best stage shows we have seen so far in Oslo.
Eva and her backing singers move about a lot on stage. It actually adds to rather than takes away from it, tough. Eva looks fantastic and the whole thing has really come together. This is now looking like a potetntial winner which is nice as I have a few euro riding on it.