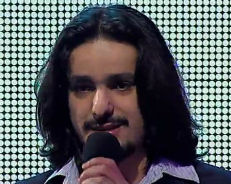 During the busiest night of the 2013 national final season, Armenia has chosen the song which will represent the nation in Malmo in May.
Male singer, Gor Sujyan had already been chosen by the Armenian broadcaster, AMPYV, to perform the song which will mark the return of Armenia to the contest, having withdrawn from the 2012 event for security reasons.
During the show, he performed four songs, with the winner decided by a combination of public phone voting and a jury vote. The four songs were:
Lonely Planet
No Time
The Truth
Toy Planet
During the interval, there were guest appearances from the Georgian duo, Nodi and Sophie, and also from the Maltese representative in Malmo, Gianluca Bezzina.

After all the votes had been counted and added together, the winning song was the rock ballad, Lonely Planet, which will be performed in the second half of the second semi-final on May 16th.