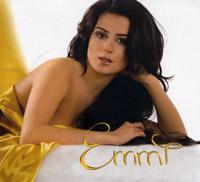 Today, Armenian national broadcaster ARM TV, announced that Emmy will be representing Armenia at the Eurovision Song Contest in 2011 which will be held in Düsseldorf, Germany.
Armenia's new talent, Emmy, who grew up in the United States, has been the subject of speculation that she would be representing Armenia at the Eurovision Song Contest in Düsseldorf. Today, ARM TV's President of TV & Radio Council, Aleksan Harutyunyan, officially confirmed her participation in Armenia's Eurovision journey in a press conference.
Mr. Harutyunyan added that 'Emmy is already ready for the Eurovision Song Contest. Now, we should all support her for Armenia's success at the contest.' According to him, the song submission will be made and then the song will be selected internally or after public voting.
Emmy was a participant in last year's Armenian national final with Mihran. Though Emmy has supported the famous singer, Ricky Martin, she didn't win the contest and Eva Rivas represented Armenia in Oslo. After Emmy's failure, Armenian media speculated about Emmy, her manager and mother's unprofessional behaviour for a while.
You can also see one of her popular music video Never Be the Same below: