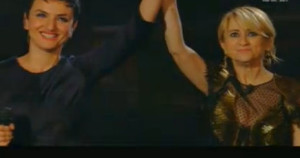 To the loud applause of the audience, Arisa was crowned the winner of the Sanremo Festival on what was her fourth foray into the event. Her song, Controvento, was lying in second place after the first round of voting on Thursday but climbed up to the top spot to claim victory of the final evening in the Teatro Ariston.
The evening, indeed the whole festival was presented by Fabio Fazio and comedian Luciana Littizzetto, who were renewing their successful partnership from the 2013 festival.
Each artist had presented two songs during the first two evenings of the festival on Tuesday and Wednesday. The public had voted to get rid of one so each act had one song going into the last three days. All songs were performed on Thursday and voted on by the public and a Giuria di Qualità, a panel of music industry professionals.
Guliano Palma – Cosi' lontano – Ska meets rock in a song co-written by Nina Zilli. At 48 years old, he was making his competitive debut in the festival. Despite his experience, he confessed to being scared of forgetting the words
Noemi – Bagnati dal sole – Croaky voiced Canta, Noemi, was taking part in her third Sanremo Festival.  Bagnati dal sole is chirpier than her other two songs and most of her competition in this festival. The song, which Noemi describes as "a super modern electronic piece" is included on her album Made in London which was, well, made in London.
Ron – Sing in the rain – Nearly 20 years ago in 1996, Ron won the festival with Vorrei incontrati fra cent'anni.  This year, his song was soft rock which featured a banjo and a string quartet. 
Arisa – Controvento – Arisa got her big break at the 2009 festival when she won the Novitá competition, with the quirky Sinceritá. She has appeared in two other festivals before this year. Controvento has a simple but effective melody and arrangement with nice use of clarinet. She was second in the festival two years ago and was in a good position to win again, being placed second after the votes on Thursday.
Francesco Sarcina – Nel tuo sorriso – The former lead singer of the band Le Vibrazioni came to the festival with a song which wouldn't have been out of place in a James Bond film. Indeed, Francesco himself had the look of a Bond villain about him. In a festival notable for a lack of songs that could be described as typically Italian, his was one of the most Italianesque.
Perturbazione – L'Unica – The only band in this year's festival were in a rather surprising fourth place after Thursday's votes. Their song is bluesy/electro pop which is quickly forgotten, due in some part to the bland voice of the lead singer.  Unusually for a band, they include a cellist.
Giusy Ferreri – Ti porto a cena con me – The song which Giusy described as "a delicate and intimate pop ballad" was one of the more 'Italian' songs on show. Delicate and intimate it may be, but it's also big and emotional. 
Francesco Renga – Vivendo adesso – Francesco won the festival in 2005 with Angelo. This year, his song was written by Elisa Toffoli, who won the festival in her own right in 2001 with Luce. Francesco's effort this time is a mid tempo soft rock number, not dissimilar to his 2005 winner. 
Renzo Rubino – Ora – Despite being one of the more up-tempo songs of the evening, Renzo's face told you there was something serious going on. The pop tune steps back in pace a bit for the chorus. It doesn't hit you instantly, but it's definitely a grower.
Antonella Ruggiero – Da lontano – This is a gentle ballad in a 'floating' style that has proved popular when she has previously entered the festival. She is the former lead singer of Matia Bazar but has been solo for many years.
Raphael Gualazzi feat. Bloody Beetroots – Liberi o no – The former Novitá winner and Eurovision star was accompanied by The Bloody Beetroots, not as you might think, several people, but one man dressed like a refugee from the film, The Fly, who ran around with his guitar. Their song is up-tempo, commercial jazz/funk. A choir was used to provide a boost in power and volume to the vocals. 
Cristiano de Andre' – Il cielo e' vuoto – Twenty-Four years after he last graced the Ariston stage, Cristiano was back with a song that was half spoken and half sung.  Il cielo e' vuoto is an environmental themed song which he described as "a blackboard on which we draw our dreams." There was an intense calm about it before it rose towards the end. After all the songs had been performed, he was presented with the critics prize, named after the late Mia Martini.  
Frankie Hi-NRG – Pedala – Described by presenter Fabio Fazio as the father of Italian pop, both of Frankie's songs were hip hop. Of the two, Pedala had more of a message and was put across with feeling and with an edge of aggression synonymous with the genre. 
No festival is complete without a little controversy and it came on Friday morning. It was discovered that Ricardo Sinigallia performed his song, Prima di andare, in public before the start of the festival. This is against the rules and, as his other song had already been eliminated and the public had voted for Prima di andare on Thursday, the festival committee were left with no choice but to disqualify Ricardo. It would have been very easy (and probably tempting) for him to skulk away in a huff, but to his credit, he remained in San Remo and sung his song while the votes were being counted. He was in 10th place after the voting on Thursday, so it is unlikely he would have been in contention for victory anyway.  
The voting system consisted of three parts; the public phone vote from Thursday, this evening's public vote and the votes of the Giuria di Qualità, a panel of music industry professionals. Each of the public votes made up 25% of the score while the jury vote made up the remaining 50%. When all the votes had been added together, the top three then participated in a 'sing off' with the phones lines being opened for a totally separate vote which excluded all previous votes, as did the new vote from the jury.
The acts finishing in the top 3 were Renzo Rubino, Raphael Gualazzi feat. Bloody Beetroots and Arisa. They all performed again while the public voted. After the lines had been closed and the votes counted, Fabio and Luciana called the three of them back to the stage where Luciana opened an envelope and, after a bit of mock, comedic drama, announed the winner of the 64th Sanremo Festival as ……….ARISA