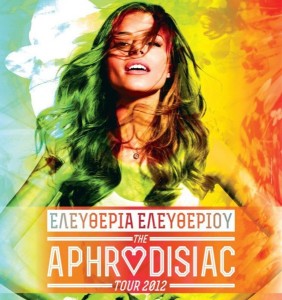 After representing Greece at the 2012 Eurovision Song Contest, Eleftheria Eleftheriou is about to embark on the first large-scale tour of her career and, according to the dates and locations confirmed so far, she will be visiting many cities all over Greece and Cyprus.
Eleftheria Eleftheriou, the young Greek-Cypriot singer who represented Greece at this year's Eurovision Song Contest in Baku starts her summer tour and from June 15th she will give several concerts in some Greek and Cypriot cities. The title of the tour, no surprises here, is Aphrodisiac and little by little the dates and locations are being announced.
Eleftheria is quite popular in her home country. She had previously participated in the Cypriot national selection for the Eurovision Song Contest in 2006 with the song Play That Melody To Me achieving the seventh position but she became known for the audience after her participation in the second season of The X Factor show where she did not win but it was her first big step in the music business. Shortly after her elimination, Sony Music Greece signed her and she applied to represent Greece in the 2010 Eurovision Song Contest but  was subsequently disqualified after her song Tables Are Turning was leaked. Since then, in February 2010 she released her first song called Centre Of The World and a few months later she presented her second single in Greek Otan Hamilonoume To Fos (When We Turn On The Light) in a pop rock style.
The full schedule of the tour is not yet officially announced, however, we already know the dates and places of the concerts taking place in June. Check out the list below:
June 15th – Ioannina (Greece)
June 16th – Serres (Greece)
June 22th – Larnaca (Cyprus)
June 23th – Agrinio (Greece)
Stay tuned for all new tour dates.
Below you can watch our 3D video of Eleftheria Eleftheriou performing her 2012 Eurovision Song Contest entry Aphrodisiac. As always, we strongly recommend watching this video in 3D, as it was recorded, to enjoy it to its fullest, but if you do not have a pair of suitable glasses (that can be bought at our 3D page) this can easily be turned off in the player below and watch it in regular 2D.