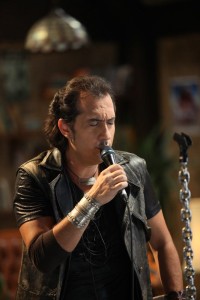 Today, another rumour has been launched by some international websites around Europe and also in Turkey: Kıraç will be representing Turkey at the Eurovision Song Contest in 2012. TRT denies the story that an official offer has been made to Kıraç. TRT will be announcing the Turkish representative on either New Years Eve or January 15th, 2012
It is usual in Turkey that the rumours are spread around as to who TRT will choose as TRT has been using an internal selection process for their representative name for years. After speculations on Hande Yener and Atiye, now another famous singer Kıraç has been reported as representing Turkey at the Eurovision Song Contest in 2012.
After the rumours quickly spilled out around media related to Eurovision Song Contest this afternoon, TRT immediately denied the story, stating the corporations have not given its decisions for forthcoming edition of Eurovision Song Contest. Then the singer Kıraç and his manager also declined the story.
Kıraç's manager released a statement saying: Kiraç is not interested in Eurovision and would never enter the competition. Therefore, it's highly expected the news published online today is inaccurate and there is yet to be a deal made between an artist and TRT.
The rumoured name Kıraç, also talked about the contest on a live TV/radio show broadcasted on KralPopTv this evening "I felt uneasy about the rumours because I don't even want to be linked with the contest as I am not such a populist person. I would give some further details if it is needed but for now I am only living for my fans and as I didn't create any questions in their minds about me and my passion. I have been using the exact descriptions about the contest for years: Eurovision should be linked as an amateur contest because even a description of "contest" is not made for the music and it's obvious this contest is in more political arena than a simple song contest." He also suggested that the next representative should use authentic elements singing in Turkish language, like one of his songs; Endamın Yeter would be such a good choice.
Later in that programme, Kıraç accepted that he received the official offer from TRT to represent Turkey in Baku, but the meetings are on-going with the corporation nowadays. As far as Kıraç is concerned, he already gave his decision for himself, but he found the explanation of his decision would not be professional to tell.
Kıraç, pop & rock singer, has huge fame in Turkey as he contributed albums such as Kayıp Şehir, Zaman and many others. In addition, he has contributed with other artists such as Funda Arar in the songs Seni Düsünürüm, Çeşminaz, Sevgiliye and many others as well as movie soundtracks such as Aliye. He's also released eleven albums up to now and already secured his place in the best sellers list. Below you can watch Endamın Yeter and Fenerbahçe song for the club's 100th anniversary performed by him.
In my view
According to those explanations there are two possibilities; Kıraç will decide to represent Turkey or not. I personally give less possibility to the representation of Kıraç in Baku. He is been stating about the negative facts of the contest as much as he did today. But even if he represented Turkey, his act most possibly would be a ballad in Turkish language.

On TRT's side, if Kıraç ever represents Turkey, the corporation will get the vote of un-confidence from Turkish fans as they have opened a poll once again and twice in a row the people's choice will be ignored! We shouldn't get this out of our memories: One of the worst results of in Turkey's history in the contest came from Yüksek Sadakat when TRT ignored the poll for the first time. TRT don't learn anything from failures in the past, anyway…

The opinion expressed in "In my view" are those of the author and are not necessarily the one of EuroVisionary.com.