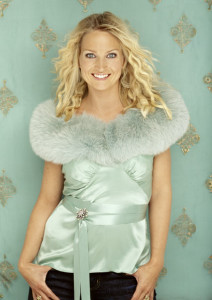 It looks like 2009 won't be Annette Heick's third attempt to represent Denmark at the Eurovision Song Contest as she is pregnant and expecting to give birth in February, something that could easily collide with a Danish final.
Annette Heick who has often described herself as a big fan of the Eurovision Song Contest has twice taken part in the Danish national final, the Dansk Melodi Grand Prix. In 1991 she finished third with the duet Du Er Musikken I Mit Liv together with Norwegian Egil Eldøen, but it was her 2007 attempt Copenhagen Airport that made her well known and loved by foreign fans as well despite finishing last in the national final without any points.
36-year-old Annette Heick has basically been born into a life in show business being the daughter of Keld & Hilda Heick who has been a well-known duo in Danish pop music for decades. Keld Heick has written an uncountable number of songs for the Dansk Melodi Grand Prix with 8 of them winning in the period from 1979 to 1993.
It will be Annette's second child. Her and her husband Jesper Vollmer already have a 4-year-old son named Eliot.
Below you can watch Annette Heick's two participations from the Dansk Melodi Grand Prix. First is her 2007 entry Copenhagen Airport and secondly her 1991 entry Du Er Musikken I Mit Liv.